The Frank Stronach Plant Science Center was built to help facilitate more than 3,100 visitors each year and is available for approved for UF/IFAS activities and related faculty during business hours.
Capacity and Layout
The conference center can accomodate up to 214 chairs, depending on floor plan layout choice.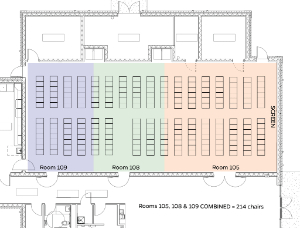 Forms
Contact and Reservations
Email or fax the "Event Request Form" to PSREU-Conf@IFAS.ufl.edu or call (352) 591-2678 to review the options and request a reservation.
Photos